| | |
| --- | --- |
| Volunteer Participation Shifts | |
Thursday June 20th thru Sunday June 23rd
Thank you for your decision to volunteer at Rotary GroveFest! We are very happy to be bringing this festival back to Downtown Downers Grove. However, without the help of volunteers like you, we would not be able to hold this event. This year we are using Sign Up Genius to handle the registration process. The site allows you to see all the shifts available, sign up for what you want, and go back and make changes should your schedule change.
If a Rotarian referred you to sign up, please note their name in the "My Comment" field.

If you are signing up for shifts under a non-profit, please note the organization in the "My Comment" field.

Save the date for our annual volunteer training:

Wednesday, June 12, 2013 6:30 p.m. at the Lincoln Center. [ MAP HERE ]
Again, we appreciate you volunteering and look forward to seeing you at Rotary GroveFest!
Click the below Sign up Geniuis icon to register now!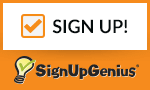 VISIT SIGNUP GENIUS WEB SITE HERE
Below is a brief description for each job:
Rotary GroveFest Setup and Festival of Cars Setup:
Volunteers assist the Operations Staff in preparing an activity or event. This may include being a runner for supplies/materials, lifting, assembling, arranging, basic clean up and such.
Guest Safety:
The Guest Safety volunteers support the operations of Rotary GroveFest and follow directions from the Security and Medical managers. This group is responsible for ensuring the safety of participants at Grovefest, directing drivers to more appropriate parking, directing guest to the information booth, and answering basic questions.
Info Booth:
Information Booth volunteers assist managers with the check- in process of all volunteers. They also answer questions from guests, provide information and help manage lost and found.
Beer Tent:
Beer and Wine Server volunteers pour and/or serve alcoholic drinks. They are responsible for adhering to rules—serve only one drink at a time; serve only individuals over 21 years of age and make sure drinks are not served to people who appear intoxicated.
Ticket Sales:
Ticket Sales volunteers sell drink tickets to persons over 21 years of age and maintain responsibility for the security of the cash drawer and ticket supply.
Gate Entry:
Gate Entry volunteers are responsible for collecting a fee from people entering the Entertainment and Beer Garden after 6:00 p.m. They are also responsible for the security of the cash drawer and the wristband supply during their shift
Questions? Email us:: This e-mail address is being protected from spambots. You need JavaScript enabled to view it Call us:: 630-729-0351
Last Updated on Tuesday, 02 April 2013 18:13
---